Was your
forefather put at the stake? Or was it your forefather who sentensed the miserable soul to the stake? Or maybe you had a forefather in both the victim and the judge. Well, the judges were not so many but the victims were quite a few. But what people were put at the stakes? Mostly (not always) common, poor people. Why? Accusation and "confession" of Wichcraft or Sorcery.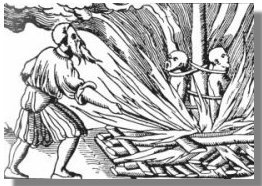 Sorcery was known in the pagan time, and the greatest sorcerer of all was the pagan god
Odin
(Newsletter #34), the highest of all the ancient gods. Even after the christianity, sorcery was practised for good, hea- ling, weather, crop, etc., but also for worse. In the latter half of the 14th century the church's atti- tude towards Wichcraft changed radically. The Pope in Rome himselfe issued a letter against what he called Witches, and witchcraft was defined as heresy. In 1486 or so, a manual was published in Copenhagen,
Malleus mallificorum
(Witch-hammer), with references on how to fight the witchcraft and instructions on all kind of punishment like torture and as a final solution, burning at a stake.

How to get a girl. You should write this sign in the palm of your right hand with blood from the tip of the thumb on the left hand. Take the girl's hand and recite: My hand I lay in yours, my will in . . . etc.
For many decades people had been accused of witchcraft and put to death in burning flames on the European continent before this besetment found it's way to Iceland. As a matter of fact it was brought to Iceland by learned men, who had been studying religion and law in Denmark or Germany. Pretty soon, people started to held their neighbours responsible for the death of a cow or a horse, peoples' sickness or simply whatever went wrong, even waking up people from death and sending the ghost on foul missions. The case was brought to the nearest sheriff who in his investigation more often than not found some suspicious items amongst the poor belongings of the victim. Mainly it was some written sign like, for instance, the one on the left, that one though rather inoffensive compared to many others. The punishment for sorcery or witchcraft was flogging and for severe or repeated crime, the stake.
The first victim for this mad witchcraft hunting was a farmhand in Eyjafjörður, north Iceland,
Jón Rögnvaldsson
who in 1625 was burnt for raising a ghost and possessing papers with runic characters. Of course he denied all accusations. Jón Rögnvaldsson was born around 1600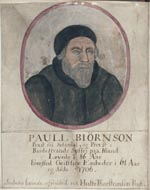 Reverend Páll Björnsson
the Witch priest.
and had no descendants but is related to us through his siblings, Jon "younger" Rögn- valdsson and Thora Rögnvaldsdottir, I'm her descendant of the 10th generation as you can see in my
GenWeb
. Strandasýsla county has been associated with sorcery and wizardry ever since a burning recurred there in 1654. Then a local pastor elicited such hysteria among the women and girls of the congregation that many fell to the church floor during sermons, frothing at the mouth and screaming that they were being assailed by demons or witches. In response, under the zealous direction of Sheriff
Thorleifur Kortsson
(1615-1698), a former Hamburg- trained tailor turned lawyer, of German origin, three men were charged with sorcery and burned as wizards. This hysteria then spread to the Westfjords, where Sheriff Thorleifur and a local pastor, Reverend
Páll Björnsson
of Selárdalur (1621-1706), conducted fanatical witch hunts as a result of the delusions of Rev. Páll's insane wife Helga Halldórsdóttir (1617-1704). Amongst their victim was
Lassi Didriksson
who was burned at Thingvellir, 4 July 1675. At that time he had one daughter, Guðrún Lassadóttir, born 1657. She had at least five children and her descendants are now thousands. I'm one of them and many from that group emigrated to North America. So check on your ancestors! And count the witch-hunters, Rev. Páll Björnsson and Sheriff Thorleifur Kortsson, amongst your ancestors too!! You can see how I'm related to them at my
GenWeb
. If you don't already have it clear to you how you connect these persons, we could maybe work that out - if you wish!
During the witch-hunting period in the 16th century around 130 cases of witchcraft or sorcery are found in court records both from the high court at Þingvellir and in fragments of county court records. Of the approximately 170 persons accused around 10% were women, the rest were males, mostly of the lower classes though some sheriffs and clergymen were also accused. None of the latter suffered physical punishments. Between 1625 and 1683 twenty one Icelanders were burnt alive for practicing magic.