Once again
,Thank you all for your patience. Not a single soul has been bugging me for having not written any Newsletter since in the beginning of August. And before that, well - let's not remind ourselfes of, what many of you know so well by now, the hacking story of this Newsletter. Let's keep in mind what an old philosopher once said: "Patience is the companion of wisdom."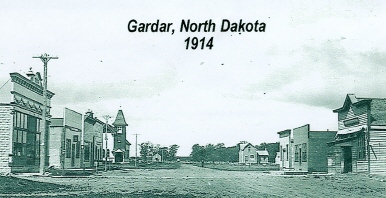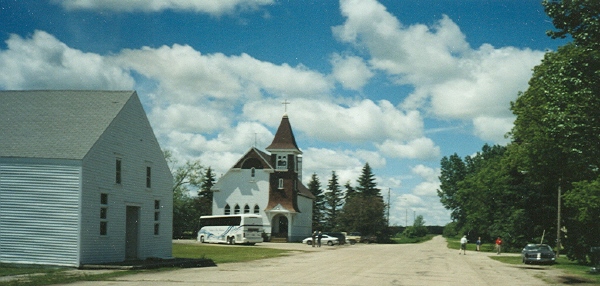 Gardar North Dakota 2004
In my last
letter I began to brush up my visit to the old Icelandic settlements and was in that story, on the eve of the fourth day, about to check in at
Roadking Inn
, Grand Forks, N-Dakota. One of the "natives", a good friend through correspondance and a dedicated genealogist,
George Freeman
, of Icelandic origin, met up and took me on some excursion in his car through town before taking me to his home to show me the genealogy he's working on. And believe me, he is really doing something! If you are searching your Icelandic ancestors in N-Dakota you might as well contact him - or me :-)
Early next morning we headed for Mountain, Gardar, Eyford and other places in Pembina county. Driving through the plains I recalled what I had read somewhere, that Iceland is about half the size of North-Dakota. Waow! A huge country!
Pretty soon though we were in Mountain. I didn't see any mountains, someone pointed out to me that the name was derived from some slopes, supposed to be there; Well, they must have vanished through the years since the settlement, I didn't see them either. Anyway, the country was as beautiful as a cultivated land can be. I was stupid enough not to write down carefully where we went and whom we met so now I have to rely on my memory - which is not the best. I could say as Mark Twain said - once upon a time: "When I was younger I could remember anything, whether it happened or not."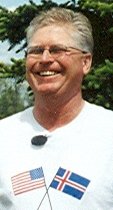 Curtis Olafson
Anyway, I remember the great people we met. Percy Hanson, John J. Johnson, Magnus Olafson, Bjorn Olgeirson, his sister Sigrun Sigurdson and others, many spoke PERFECT Icelandic - some of these good people having not even been to Iceland! Among the others who greeted us were Curtis Olafson, the president of the Icelandic Communities Association in ND, and board members Leslie Geir and Loretta Bernhoft who invited the group to her farm,

Loretta Bernhoft
rebuilt after all houses there except one beeing smashed in a hurricane in 1999. We were also invited to the Olgeirson Family Big Yellow House, raised where Bjarni Olgeirsson and his wife Gušrśn Įsmundsdóttir homesteaded in 1881, if I'm not wrong. The house is now owend by Bjarni's descendant, Shirley Olgeirson, who together with other family members, greeted us with great hospitality.
A visit to the cemetery at Vikur church was on the agenda as well as a visit to the Eyford cemetery where, among many Icelanders, the well known poet Kristjan N Juliuson, better known as KN (or
Kįinn
, as we say in Icelandic), is buried. As you may remember from my
Newsletter #12
, the beautiful church at Eyford burned down last year leaving a big scar at the site. After pouring a good drink on Kįinn's tomb - it's a tradition by now - the group went on. It's a lot to see in the area and the time was running away.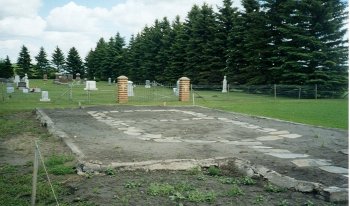 The beautiful church isn't there anymore
By the way, the name
Gardar
was chosen by a simple way. I quote the "
Echoes from the Icelandic Immigrants
" page 24: "The area was first called Park community, for it lay adjacent to the north branch of the Park river, that flowed east through the area. Just after a community had developed along the river bank, a few homesteaders met in the home of Eirķkur Hjalmarson Bergmann early in the years 1882. His home was in the middle of the settlement, was roomiest and he was interested in getting a post office. The meeting was well attended. Eirik was chosen president and Stephen Gudmundson was secretary (Stephen became later known as
Stephan G Stephanson
). A motion was made that a post office be established, the home of Eirik Bergman be the post office and that Eirik be the postmaster.
Next they had to choose a name for that post offfice, so that it would be realized at the earliest possible time frame. The secretary was asked his opinion. He felt that an Icelandic name rather than an English name would be appropriate. He felt that if the post office had an Icelandic name it would not be forgotten that it was Icelanders who had first settled the area.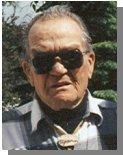 Bjorn Olgeirson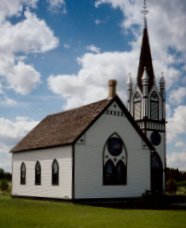 The church in Icelandic State Park.
His first thought was that it had been Garšar Svavarsson who had been one of the first men in Iceland who had had a meeting of this order. Although his name had not been well known, and the soft Š would be changed to the English D, it would still be recognized as Icelandic. The president suggested Geysir as an alternate name for the post office, and Olafur from Espihol suggested Bergman to honor the president. The secretary stipulated that would go against regulation. The two names Geysir and Gardar were equally good. The name was decided by putting both names into a box and picking the name from that."
Eyford
takes the name from Jakob Siguršsson (1827-1921) who emigrated in 1873 with his wife Gušlaug Benediktsdóttir (1835-1909) and six children. He came in 1881 to N-Dakota from New Iceland, Manitoba. He took the name Eyford as a family name from his home county in Iceland, the county of Eyjafjöršur. For many years his home was the center of the community.
Well, I could keep on for a while, but after a short visit to the Pioneer Home Borg and to the Icelandic State Park, we headed for the border. It took us more than an hour to pass and while we waited at the custom in Emerson, I was reading the map of N-Dakota, and found the name
Bjornson Drive
in Cavalier. - What Bjornson? Most likely an Icelander. Well, no more Map reading, we were now cleared from the custom and the next stop was Winnipeg.