Hecla Island
and Gull Harbour, if you haven't been there, you have something in store. I have been there - in my thoughts - since my last Newsletter but now we turn our nose back to Winnipeg. On our road back we visited the home of
Einar and Rosalind Vigfusson
in Geysir. As you may know, Einar is a very well known artist, actually, famous Wildfowl carver. And Rosalind has been giving all of herself in teaching and training children in singing, also in Icelandic - and has brought New Iceland Youth Choir to Iceland. Rosalind and Einar, together with others, invited the group to their summer house called
Ásgarđur
,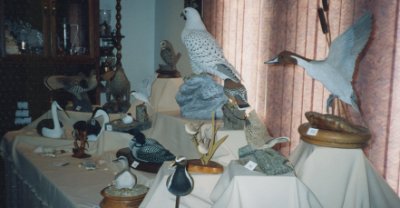 Some few of Einar Vigfusson's artwork
meaning the home of the ancient Nordic Gods. We met a lot of people there and once again I failed to write down names. It was all very interesting and without even trying to favourise anyone, it was a pleasure to meet there
David Gslason
, former president of the Esja Chapter of INL, and the young enthusiatic historian
Joel Fridfinnson
and his parents. Also Wanda (Josephson) Anderson and her husband Tim, she is a co-ordinator for
SNORRI WEST
, a
Cultural Exchange Program
for Icelandic Youth. After a good meal and an interesting time with all this good people we headed straight to Winnipeg.
There was no program the following day so the day was spent by strolling along the streets but mainly though in
The Forks
which is a popular scenic park with historic landmarks and notes, located in the center of the city, where the two rivers meet, Assiniboin and the Red River. "The Forks" was first used as a meeting place for Native Canadians.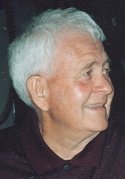 Einar Vigfússon
They were followed by rival, edgy fur traders who established Fort Rouge, Fort Gibraltar and two Forts Garry. Later came the missionaries; skilled Metis buffalo hunters; determined Scottish settlers, riverboat workers, railway promoters and tens of thousands of immigrants who flowed through The Forks onto the prairies.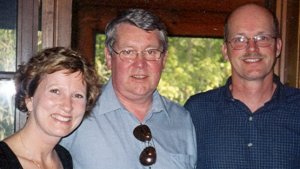 A good travelling companion, Einar Gíslason, flanked by Wanda and her husband Tim Anderson.
Einar, thanks for the time and all the photos!
I had a pleasant day in the sun at The Forks.
We had
a long journey ahead of us. The following day we drove all the way to Montevideo. Yes, Montevideo in Minnesota, U.S. Few stops on the way of course, and in the evening a grand dinner at some nice restaurant before we came to rest at Country Inn & Suites. A really nice and comfortable place.
June 21 was the last day of our journey that started June 11th in Iceland whe we flew to Minneapolis. We drove to Lyon County in south west Minnesota. The first Icelandic settler there was Gunnlaugur Pétursson, born 1831 at Hákonarstađir in the parish of Hofteigur in Nordur-Mulasysla (county) Iceland. His wife was Guđbjörg Jónsdóttir, born 1837. They emigrated to Minnesota in 1873 with their children, Jón,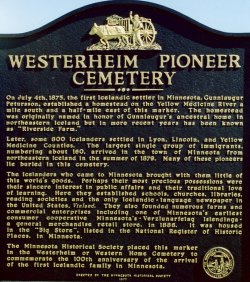 The Minnesota Historica Society's marker in the Westerheim Cemetery.
Move the mouse over the picture.
born 1860, and Kristín, born 1868, their foster daughter was Guđbjörg Runólfsdóttir, born 1867. In 1875 they became the first Icelandic settlers around Minneota in Lincoln County, Minnesota. Gunnlaugur was part of a group of 50 immigrants whom Páll Ţorlákson, the Icelandic Lutheran minister (previously mentioned in my Newsletters), placed as hired hands among Norwegian Lutheran farmers in Wisconsin so they could learn unfamiliar farming techniques before settling on land of their own. When Pétursson's Norwegian neighbors decided to move to Minnesota, he decided to go too. (Ann Regan, The Icelanders, Ch. 14 in They Chose Minnesota, Minnesota Historical Society Press, 1981). He took his family 500 miles with a team of oxen from Iowa City in southwest Wisconsin to the Medicine River seven miles northeast of the present town of Minneota in southwest Minnesota. Gunnlaugur Pétursson's parents were Pétur Pétursson Jökull (1793-1822) from Hákonarstađir and Ingibjörg Vigfúsdóttir (abt. 1796-1866). As Gunnlaugur was the first settler in the family, he probably sent letters home that encouraged other family members to emigrate to America. The Kin of Hákonarstađir is huge and many families emigrated.
In 1876 the migration augmented by arrivals from Shawano.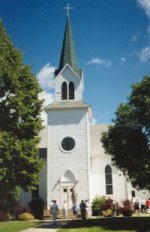 St.Paul's Lutheran Church in Minneota
Settlers continued to arrive from Iceland and Wisconsin after this time and by 1900 the population reached 800 people.
We visited the farm where Gunnlaugur Pétursson settled down. He called his farm Hofteigur, the name of his home in Iceland.
After a visit to the Westerheim Pioneer Cemetery, where many of the Icelandic settlers and their descendants are buried we drove to Minneota. We saw the "Big Store", the first general mercandise retail store, raised and managed by Ólafur Guđjón Arngrímsson - O.G. Anderson - (1859-1903), who 19 years old emigrated in 1879 from the county Múlasýsla north, East Iceland. His second wife was Gudrun P. Jökull, great-granddaughter of the above mentioned Pétur Pétursson Jökull (1793-1822).
It was a strange feeling to walk around in this cemetery, as it had been in those previously visited, while touring the Icelandic settlements, to see all these Icelandic names on the gravestones and many inscriptions in Icelandic. There was Schram, and there was Sigbjorn and Rosa Thorsteinson, Jón and Gudrun Rafnsson, Gilbertson, Ousmann and Stephen and Petrea Hoff, just name a few.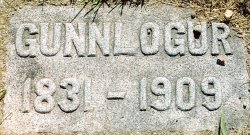 Gunnlaugur Pétursson´s gravestone
in Westerheim Pioneer Cemetery
After a short visit to the St. Paul's Lutheran Church in Minneaota we drove to Minneapolis, where our great trip has started. That evening we were invited to the home of Patricia (Pat) Allred and her husband where I met, among many others, a good friend through correspondance, Curtis Thorfinnsson. Is it not great to meet people you have known for years but never seen? Well, according to the program, this was the end of the journey. The following day, June 22nd, the group split, people had different errends to do before taking the course home to Iceland the day after, June 23rd. I had nothing to do so the day would have been a dull one if a friend hadn't called and taken me on a great excursion through Minneapolis and St.Paul. Thank you so much Rodney, you really saved the day. Oh, by the way, you (my readers) should know that Rodney Martel moderates the group
Learning Icelandic
which I think you should at least be aware of. Take a look and join!
For me this was not the end of the journey. I had one more week to spend. More in my next letter.
See you!