Time is relative to distance.
When this comes to my mind, I'm comfortly sitting on a
NWA
plane on my way from Minneapolis to Salt Lake City, Utah. Through the small window I see, in the clear weather, the country below from an altitude of about 30000 feet
(maybe less, maybe more) and my thoughts go way back in time to the people from Iceland who strived through that country on foot, pushing or pulling handcarts with their meagre belongings 150 years ago. I sip my orange juice and every now and then I put some peanuts in my mouth; I feel great. Did they have enough water down there? Or did they have enough food? According what I have read, many suffered from great hardship on their way to the promished land and people died from hunger and exhaustion on this long road to Zion, adults and children alike. Yes, time is relative to distance - maybe it could be put the other way around - distance is relative to time. It takes me little more than two hours to pass a distance that took the
Icelandic Mormons
about two months to cover. Even more. But crossing the planes was just the end of their journey which had, for many of them, started many months earlier. I'm not gonna tell you the story of the Icelandic Mormons, others would be much more able to do that. Anyway, in 1854 the first Icelandic Mormons left Iceland for Utah via Denmark and England. They were
Samuel Bjarnason
and his wife
Margrét Gísladóttir
. With them emigrated also
Helga Jónsdóttir
who later became
Thordur Didriksson
's first wife. They came from Vestmannaeyjar as did so many of the Icelandic mormons. According to the book "The Icelanders of Utah" by LaNora Allred, the three sailed from Liverpool, England, on January 7, 1855, on the ship, James Nesmith,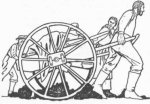 Pulling the handcart
and arrived in New Orleans on February 23. From New Orleans they sailed up the Mississippi River to St. Louis, Missouri, and then proceeded to Mormon Grove. On June 13, 1855,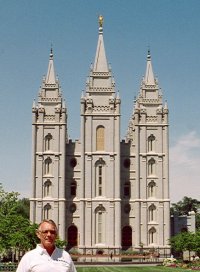 HH in front of the Mormon Temple
they left by wagon train for Utah and arrived in Salt Lake City on September 7.
It was easier for me to get to Utah. Landed in Salt Lake City, I'm greeted by the good people that invited me to come to Utah,
David Alan Ashby
and his wife
Bonnie
and
Thor Leifson
. All play and have played a significant role in
IAU
, the
Icelandic Association of Utah
as board members and David is a past president. Thor is the Honorary Consul of Iceland in Utah. David and Bonnie live in Orem and Thor lives with his wife Loyce in Provo, some 35 respecively 40 miles south of Salt Lake City.
The following day
, David took me on an excursion tour to Downtown Salt Lake City. We strolled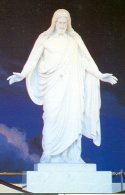 Bertel Thorvaldsen's
Christus statue
along and around the
Tempel Square
in the beautiful weather and visited the
North Visitor's Center
and the
Conference Center
, which features a 21,000-seat auditorium and a 9000-seat theater. Magnificent buildings. The North Visitors' Center, stands at the northwest corner of Temple Square. Its most prominent feature is most likely the 11-foot tall Christus statue which stands in the central atrium, surrounded by a spiraling ramp and by murals depicting the vast expanse of the universe. The white carrara marble statue is a copy of an 1821 work by the Icelandic/Danish sculptor
Bertel Thorvaldsen
, one of several copies situated in LDS visitors centers. Bertel's father, Gottskálk Ţorvaldsson, was a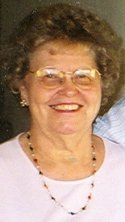 Bliss Anderson
skilled wood carver from the county of Skagafjörđur, Northern Iceland, who married a Danish woman by the name of Karen Grönlund and settled down in Copenhagen where Bertel was born in 1770.
No one
with the slightest interest for genealogy can "escape" a visit to the
Family History Library
, which houses the largest genealogical collection of its kind in the world. And David took me there. What a library! and what a wealth of information has been gathered from all corners of the world. You just name it and I'm sure they come up with some valuable information. But should you need some information regarding the Icelandic Mormons, their ancestry or descendants, you'd better turn your nose to Spanish Fork where the Icelandic Genealogical Department of the Family History Center is taken care of by
Bliss K. Anderson
, a charming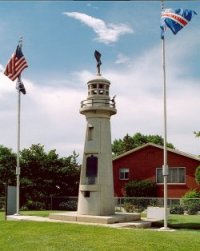 The Icelandic monument in Spanish Fork
lady of Icelandic origin who helps visitors to do their research on putting their family trees together. Her grandfather was Halldór B. Jónsson from Reykjavík, who emigrated to Utah in 1881 with his wife Thorunn Gudmundsdottir. Anyone familiar with the
Auđsholtsćtt
, the Kin of Auđsholt, from the county of Árnessýsla, South Iceland?
While in Spanish Fork, take a look at the
Icelandic Monument
, jointly built by the Icelandic Association of Utah and
The Daughters of the Utah Pioneers
, in the shape of a lighthouse reflecting the seafaring background of the Icelanders, who settled in Utah. On the tower is a memorial tablet with the names of the 16 Icelanders who came to Utah in the period of 1855-1860.
Park City
, the site for the winter Olympics 2002 is a place worth visiting, only abour one hour's drive from Orem - or was it more? or less? - and so is also
Sundance
. Yes, Robert Redford's place. He wasn't at home himselfe, so I had to leave a message :-)
June
26 and 27 were
Iceland Days
in Spanish Fork and the slogan was:
Remember the Past - Have faith in the Future
. The program started early in the morning but the main activities began around 11.00 a.m. There was a good attendance, maybe about 150 people including many children. At noon there was Lamb Dinner, as the main dish, but KFC for those who didn't like the lamb! The program included a Welcome speach - of course - given by Richard Johnson, a song by Miss Spanish Fork, Annalece Boothe, of Icelandic origin, the auctioneer beyond comparison,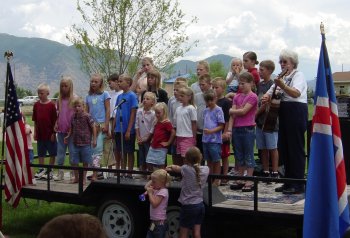 The Youth Choir in Spanish Fork
Jack Tobiasson, auctioneered a beutiful quilt and raised a lot of money for the IAU. The highlight of the program, to my mind, was the youth choir singing in Icelandic. I doubt they understood the words they sang, but they were just great. And their conductor is to be commended.
Yes, there were a lot of people gathered and it was great to meet so many of my corresponding friends in Utah.
The Iceland days were closed the following day in the afternoon with a meeting called "Fireside". There were music, songs, speaches and prayers - Remembering the past - Having faith in the future. It's beautiful how this people preserve their 150 years old Icelandic heritage.
This Sunday morning David and Bonnie took me to Salt Lake City. To attend the
Mormon Tabernacle Choir
. This 360 members choir began in 1847 when a small Church choir sang on what is now Tempel Square in SLC. The Salt Lake Tabernacle, the home of the choir, is the oldest structure on Tempel Square, completed in 1867, and the dome building is noted for its acoustic qualities. The Tabernacle Choir broadcasts every Sunday, and this was the 3,906th broadcast. I can only say after beeing there: don't miss it if you ever have the possibility to be in SLC on a Sunday. Otherwise, tune in on the radio.
Next: Exploring the National Parks and Canyons in South of Utah.
See you!