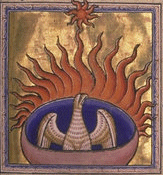 The Phoenix bird
Phoenix is not
only the capital city of Arizona, US. In ancient Egyptian mythology and in myths derived from it, the
Phoenix
is a mythical sacred firebird. Said to live for 500 years, the phoenix is a male bird with beautiful gold and red plumage. At the end of its life-cycle the phoenix builds itself a nest of cinnamon twigs that it then ignites; both nest and bird burn fiercely and are reduced to ashes, from which a new and fresh, young phoenix would arise.
I wish I was like the Phoenix bird, in a way at least. Not to go up in a smoke, but to be refreshed every now and then. My "work" on my
weekly
Newsletter may be like the life-cycle of the Phoenix, it runs for - not 500 years - but for some time, and then - it sort of fades away. Not because of lack of interest, mostly because of lack of time. More time will be available when I retire in a couple of years, I hope :-) I hope I will be like a new, fresh Phonix though I fear that when I look into the mirror, which I do quite often, I will see the same old crumpy guy as always.
Well, my
Forfather Finding Facilities
are still highly popular if I'm allowed to brag a bit. People search for their ancestors and it's obvious that they really want to find their roots in Iceland. Sometimes I wonder, how on earth can it be that people don't know about their Great-grandparents or even their grandparents. But when I recall from my trip to the Icelandic settlements last summer, the huge plains, the vast distances, I realize how difficult is may have been - even for Icelanders - to keep the families together.
Anyway, my Forefather Finding Facilities serve at least two purposes. It satisfies my general genealogical interest and very often - most of the time - I succede in connecting the seaching people to their ancestry, to Iceland, and I think it gives them as good feeling as it gives to me :-)
So keep on sending me your queries and do it again if or when you think this guy has had all the time in the world to answer.
By the way, can anyone tell me how the city Phonix got it's name?