June 16th I wrote you a small letter, telling that I was about to take a two weeks vacation to Tyrol in Austria and Lake Garda in Northern Italy. Well, when back I intended to write a small Newsletter, but as always - I live by the motto: "What you can do today, you can as well do it tomorrow!" Anyway, the trip was great. I like travelling (If I could afford it I would do much more of that), seeing new places, meeting new people and so on.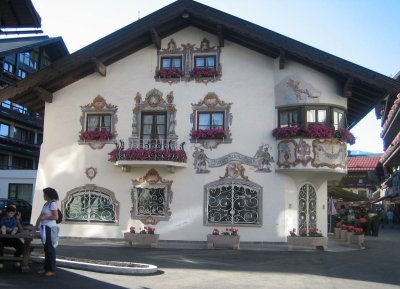 Houses in Seefeld are beautifully decorated
We had a great guide. A young Icelandic woman which we had met before as she guided us when we (my wife and I) visited Wienna last year. She lives in Wienna and had now come down to Bologna, Italy, to meet the group of 34 Icelanders and bring us to the small town of Seefeld in Tyrol, where we stayed for the first week. When meeting people, genealogy is never far away :-) This young woman is
Gunnhildur Gunnars- dóttir
, first cousin to
Steinţór Guđbjartsson
, the awarded editor of
Logberg Heimskringla
, the "Ice- landic" newspaper published in Winnipeg. Awarded? See below.
Yes, Gunnhildur brought us to
Seefeld
, a beautiful village, situated on a high plateau in the Austrian alps, surrounded with high woody mountains with snow caps. From Seefeld there are short distances to interesting and beautiful places, like Innsbruck with the famous Swarowsky crystal world just outside the city. Just north of the German border is the Nationa park
Berchtesgaden
where
The Eagle's Nest
(Elevation 1834 m (6017 ft)) overlooks the wonderful surroundings.
From Seefeld, Gunnhildur took us to the willage
Bardolino
on the eastern coast of Lake Garda. The lake is like a jewel in the landscape and numerous villages are like pearls on a string that surrounds the lake. A boat trip on the lake is a must as well as a wisit to the small village
Sirimione
with it's - maybe 2000 years - old ruins. A tour to the cities of
Verona
and
Venice
was on the program. I really like it hot, but in Verona it was to much for me - 41°C or 106°F. And Venice? Too many tourists!
Some few pictures
.