One day early this year
I was scrabbling through some old - well, not so very old (1998), newspaper-cuttings of mine when I came across an interesting one where the question was raised:
Was Snow White Icelandic?
Or something like that. That reminded me of what I had heard or read somewhere that a Canadian artist of Icelandic descent had been hired by Walt Disney to work on Disney's animation films in the beginning of that era. Reading through the clipping I soon found out that it was some kind of an introduction on a book called "
Cartoon Charlie - The life and art of an Animation Pioneer - Charlie Thorson
" by
Gene Walz
, a professor at the University of Manitoba. And according this introduction Charlie Thorson was Icelandic.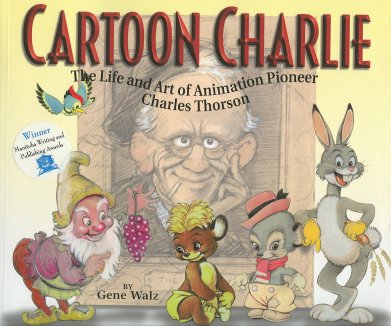 Charlie's selfportrait and some well known figures he created
Well - Canadian maybe, but his parents were Icelandic and that makes him Icelandic in my mind :-)
I had to get that book! I had to know more about Charlie Thorson. So I searched for the book on the Internet and found two bookstores in Canada advertising the book but when I raised the order neither of the stores were able or willing to take my creditcard payment. Anyway, I managed to get the book, it took some weeks - and boy! - I wasn't disappointed. What a book! In my wait for the book I had found out about Charlie's family. His parents were Stefán Ţórđarson (1858-1934) and Sigríđur Ţórarinsdóttir (1852-1935) who emigrated in 1887 - onboard ss Camoens - from Reykjavík, with their son Jón, then three years old (b. 1883), bound for Winnipeg. When Stephan (he changed his name upon arrival) and his little family came to Winnipeg he had ten dollars in his pocket and a rudimentary understanding of English. In Winnipeg the couple had three more sons, Joseph (b. 1889), Karl Gustaf (b. 1890) and Stephen Helgi (b. 1892) who later joined the Canadian Army and was immediately sent overseas to the battlefields in France. Two weeks later his brother Joe enlisted as a lieutenant in the 223rd Battalion (composed mostly of Icelanders) and was shipped off as well. When their mother did not cry at all at Joe's departure, in contrast to her excessive weeping at Steve's, Joe confronted her about her apparent favoritism. "But Joe" she is repored to have said, "You are coming back!" On September 16, Stephen Thorson died from wounds he got in the battle of
Somme
. His final words were: "Give my regards to my brother, Charlie."
Karl Gustaf
, or
Charlie
as he was called - not only by his family, showed early his artistical skills and his first known cartoon appeared on March 4, 1909 on the front page of the local Icelandic newspaper
Heimskringla
(Yes, click this link!). The main character in the drawing is Fridrik Sveinsson, also known as
Fred Swanson
, who emigrated in 1873 as fosterson of
Ólafur Ólafsson
from Espihóll (see
Newsletter Nr 13
Naming a town
and the
Settler of the week
. Click that link too). It's believed that Fred Swanson, a Winnipeg house painter, designer of stained glass windows and sign painter, became Charlie's artistic mentor. But the common interest in art was not the only reason that drew Charlie to Fred Swanson's home. Fred had beautiful daughters and the youngest one, Rannveig or Ranka captured Charlie's heart, and 11 October 1914 they exchanged vowes in Ranka´s parent's home in Gimli. Two months earlier their son Karl, or Charlie as he was called, was born. The happiness didn't last for long, Ranka died 19 October 1916 from TB and the following year the son Charlie died two years old from diphtheria.
The following years his life was in turmoil but eventually became more settled and there was soon a new woman in his life. Her name was Ada Albina Teslock, a Polish country girl, one of nine sisters, from Brokenhead in Manitoba. Like many of the women in Charlie's life, she was both beautiful and spirited. With her jet black hair and eyes, her snow white complexion, and her slender figure, she was said to be so striking that men would stop dead in their tracks and stare at her. Anyway, in spite of this beauty - or maybe because of it? - and the son Stephen, this marriage didn´t last and once again Charlie spent his unhappy days in cafés drinking and drawing sketches.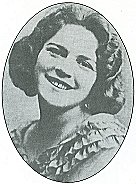 Kristín Sölvadóttir
Was she the inspiration for Snow White?
His favourite place was the
Wevel Cafe
near the corner of Sargent Avenue and Victor Street (Winnipeg). And Charlie was one of it's best customer. When Charlie was there, the stories would flow and laughter would fill the boots. And if children were passing by and caught a glimpse of Charlie, they would convince their parents to come in and Charlie would not only tell stories, he would illustrate the children on napkins and platemaps or even the menus. It was there Charlie met a beautiful waitress who had recently come to Manitoba directly from Iceland to visit her relatives in Manitoba and to see the world. Her name was Kristín Sölvadóttir. Between sketches and stories at the Wevel Cafe, and probably with his sketches and stories, Charlie would flirt openly with Kristín. He always had an eye for beauty, and she also shared his sense of adventure. Because Charlie was twice her age and a notorious "ladies' man," Kristin was outwardly cool to him. But Charlie sketched a love-note to Kristín and wrote enigmatically: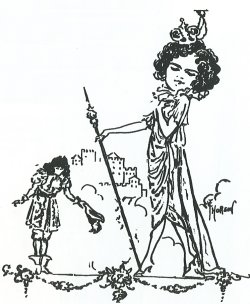 "All this will be yours if you will have me".



"All this will be yours if you will have me" and drew himself as a tiny prince, bowing grandly to his shy princess Kristín. Kristín was overwhelmed by this all. She fled to Winnipeg for Niagara Falls to sort out her feelings. They corresponded but what they said will never be known. Charlie left Winnipeg for Los Angeles and Walt Disney. He would never see Kristín again and she went back to Iceland. According to his friends and family he would immortalize her later in one of the world's most famous animated movies. - What does that mean?
Snow White?
You must read the story of Charlie Thorson!
As you may understand, I would not have been able to write the above unless quoting frequently (without quoting marks) this fantastic book,
Cartoon Charlie
, by
Gene Walz
.
I really reccomend this book. It's beautifully written and full of drawings and sketches which shed light on what life Charlie lived. I'm sure you find it in every ordinary bookstore. If not you can probably order it from:
Great Plains Publications
3 - 161 Stafford Street
Winnipeg, Manitoba, R3M 2X9
ISBN 0-9697804-9-4