Do you have old photographs that have been passed down in the family? The sepia brown kind, mounted on hard cards with the photographer's name at the bottom? Maybe they are in a thick velvet-covered album or loose in a cardboard box tucked away in your basement or attic. Here is an opportunity to learn more about them.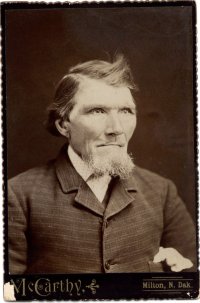 Björn Illugason from Kollafoss in
Húnavatnssýsla County. He
emigrated in 1876 with his family and
eventually made his home in N.-Dakota.
If you are the family "packrat" and have hung on to these old heirlooms despite the fact that most of the images are unknown to you, you may be interested in the "Silent Flashes" project, which explores the "photographic heritage" of the early Icelandic pioneers who settled across Canada and the United States.
For the past 30 years,
Nelson Gerrard
of Manitoba has been preserving, studying, and identifying early photographs of Icelandic immigrants and their families. This began with an interest in family history, but quickly broadened through research for Icelandic River Saga (1985). In 1990, as a result of several large donations of old photos no longer known or wanted by their owners, Nelson started the
Eyrarbakki Icelandic Photographic Archive
, and in 2004 this resulted in the creation of a museum-style exhibit called S
ilent Flashes: Photography Among Icelandic Immigrants in North America - 1870-1910
, on long-term display at the Icelandic Emigration Centre at Hofsos in Iceland. This exhibit includes some 400 images and celebrates our photographic heritage in a new and unique way. Now - to explore this subject further - Nelson is compiling a book, also called Silent Flashes, and long-term plans include a video documentary on the same subject.
During the course of this work with old photographs, something remarkable became apparent. Each old image represents a fragment of the collective history of our Icelandic pioneers, and when these photographic fragments are brought together and reassembled, they form a fascinating historical overview of the Icelandic immigrant experience in North America. This visual history reveals many things that history books do not - a fact readily evident to those who visit the Silent Flashes exhibit in Iceland.
Over the 40 year period from 1870 to 1910, an incredible wealth of images of Icelandic immigrants was created in photographic studios across Canada and the United States - from Halifax to Victoria and from New York to Seattle.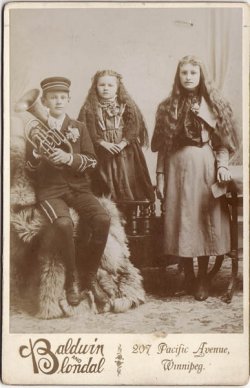 The little girl in the center is the well known
Canadian writer Laura Goodman Salverson.
As the pioneers and their descendants dispersed, however, these images became scattered across the continent, and the task of locating them and gathering them back together is therefore a formidable challenge. Natural disasters such as floods, fires, and the ravages of time have all taken a heavy toll, as has the tendency to discard old things that no longer seem relevant. There are many stories of boxes of photographs being relegated to a leaky shed, the burning barrel, or the trash.
Now, the surviving remnants of our photographic heritage face yet another serious threat - the flea market craze. When an album or box of old photographs with an Icelandic connection is sold to a "collector", a piece of our history is lost forever. The potential for identifying these old images as part of our history once they have entered the "world of antiques" is gone, and they become mere "collectibles" - undistinguishable from thousands of other unidentified photos that have little if any actual value.
What use are pictures if no-one knows the names of the people? In actual fact, many of these unknown pictures can be identified through various techniques and long-term research within the context of a photographic archive - but even as unidentified images they can be historically valuable as long as their connection with the Icelandic community is preserved.
Locating, dating, identifying, and archiving these photographic fragments of our history - that is the challenge of the "Silent Flashes Project". Whether you know the faces on your treasured photos and merely wish to share this information, whether you have unidentified pictures you just don't want to throw away, or whether you are curious about dates and names, please take advantage of this opportunity to share your treasures. Most photos can be dated, many can be identified, and some could find their way into the pages of the upcoming book or documentary entitled Silent Flashes.
If you have old photos or albums pre-dating 1910 and would like to share or learn more about them, please contact
Nelson Gerrard
by
email:
eyrarbakki@hotmail.com
phone:
1-204-378-2758
or mail:
Box 925, Arborg, Manitoba R0C 0A0 Canada
.
---
Please print
out this number of the Newsletter and nail it to your memory board so you will always be reminded to be alert regarding old photographs!
HH