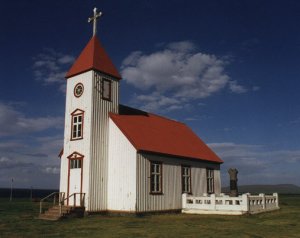 The Church at Sauđanes, North East Iceland.
Long wedlocks
are still something you witness, of course, either personally or through the media of some kind. You hear about it, you read about it or whatever.
Of course it is relevant what you call a long wedlock - to some celebrities few weeks of marriage is long enough while to some normal people five years or so has been like a sentence to . . . . others live happily for six, seven - or more, much more.
Nowadays when divorces are becoming more and more common (in Iceland more than 40% of all marriages ends with a divorce according to the statistic for 2001-2005 - don't know about the statistic over there in NA), a long wedlock is something fewer than before will reach, even though long life expectancy is growing.
Well, everyone lives as he/she chooses or according to his/her fancy. We all seek our happyness in one way or another.
I'm sure the couple from North Dakota, the Icelandic immigrants
Kristján G. Kristjánsson
(1850-1953) and
Svanfríđur Jónsdóttir
(1856-1953), made each other happy all the
75 years + 297 days
they were married. I don't know if this length of a marriage is a North Dakota or even a U.S. record but it surpasses the Icelandic "wedlock record" which is 75 years and 140 days. Kristján and Svanfríđur were married 7 June 1877 in the church at Sauđanes, North East Iceland, the church built by Kristjáns father and the following day they started the long journey of their emigration which ended in Mountain, N.-Dakota where they raised their home and family. Another couple who lived a long live - and a happy one, I presume - were
Sigurđur Sölvason
(1865-1966) and
Jóhanna Stefánsdóttir
(1873-1981). They were married in 1894 and emigrated in 1899. They settled at first in Mountain, N-Dakota and moved later to Saskatchewan. Their marriage lasted for 71 year and 168 days.
The Wedlock world record? Well, in 2005 Percy Arrowsmith, 105, and his 100-year-old wife Florence, living in Hereford, England, could celebrate their 80th wedding anniversary. According to Guinness World Records they also held at that time the record for the largest combined age of any married couple - 205 years and 292 days. Mrs Arrowsmith claimed the key to a happy union was "never to go to bed as enemies". Mr Arrowsmith summed up the secret in two words: "
Yes dear
". - Something you guys should keep in mind.