"
The number of subscribers
to my mailing list has been slowly but steadily increasing and has now exceeded the number of 600. Great! But I would welcome more - many more and
active members!
Because sometimes I wonder - are all these six hundred or so, "active" members? I mean, are all the email addresses still valid? Do all the subcribers really receive my Newsletters? From alot of subscribers I never hear a word and I find that a great pity. What can I do if anything? Any suggestions?
Recently we (my wife and I) came home from a vacation to the Greek island of Crete. What a beautiful island! We staied at a very comfortable apartment hotel on Apostoli Beach just a few kilometers west of the former capital city, Chania, with it's 65.000 inhabitants, a little more than 10% of the island's total.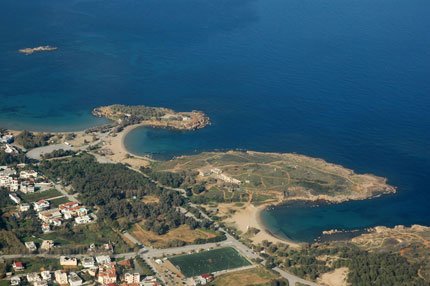 Agii Apostoli. Agii=Beach
During our stay
the countries and regions of south east Europa and eastern Medite-ranian were struck by a long lasting heat wave with almost a dayly temperature of up to 40°C (104°F) and even more.
I like it hot, but this was really too much for me. Fortunately, and as a alternative to the hotel's chilling swimming pool, there were just a few minutes walk to the beach and the deep blue, calm and cristal clear water with small multicolored fishes you usually only see in aqua-riums. Our daughter, her husband and their two kids, 10 and 13 were thrilled - especially the childen - snorkling day in and day out. During the hottest time of the day a parasol shade by the pool was my favourite retrete, reading - believe it or not - genealogy. Yes, the genealogy of the ancient
Greek Gods
with all their interesting and incestuous complexity. Already as a youngster I became interested in the Greek gods and this was an exellent time to refresh my memory of this fascinating family.
The Creteans are extremely friendly and the service wherever you need it is exellent. If you remember to say "
efcharristo
" in stead of "thank you" you are met with a broad smile and even more hospitality. Other words worth knowing are "
kalimera
" (good morning), "
kalispera
" (good afternoon) and "
kalinichta
" (good evening or good night). That's all you have to know :-)
I highly recommend the island of Crete.