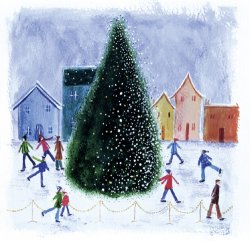 The Danish author
Hans Christian Andersen
(1805-1875), famous throughout the world for his wonderful fairy tales, wrote: "Life itself is the most wonderful fairy tale." What may have followed these "words of wisdom" is not to my knowledge. So I'm not sure of what he really meant by writing these words. Is life really a wonderful fairy tale? Well, the creation of life itselfe may be like a fairy tale, but what about the life as we live it? It may be like a fairy tale to some of us - to many people, but far too many have to live a life which is certainly not like a fairy tale. A life in real misery.
In few days Christmas will be celebrated in many different ways. Many charitable societies strive to ease the life of the poor and lonesome. They depend on donations. Let's keep it in mind when we prepare our own Christmas celebration.
I wish you all a very Merry Christmas
and Prosperous 2008!