Jónas Hallgrímsson
1807-1845
16th of November
(i.e. today) is the birthday of Iceland´s National Poet,
Jónas Hallgrímsson
who was born in 1807. Since 1996 this day has been declared the
"Day of the Icelandic Language"
Today when little is left of the Icelandic pride, because of shameless behaviour of politician and financial criminals, we have to consider what is the most precious we still have. Well, we have the Icelandic heritage and the Icelandic language. Jónas Hallgrímsson is the most admired poet of modern Iceland.
"His work transformed the literary sensibility of his countrymen, reshaped the language of their poetry and prose, opened their eyes to the beauty of their land and its natural features, and accelerated their determination to achieve political independence."
That's something to start a new Iceland with, isn't it?
Actually I should write this letter in my own language so please hurry up learning Icelandic.
Out of the financial turmoil sweeping a small country somewhere in the ice cold Arctic ocean I send you all my very best and warmest wishes, hoping to find you all in good shape and having not lost much if anything in the crash of the Icelandic banks. In my last letter I expressed my feelings for the situation and I'm not going to repeat it here. Anyway, many people here in Iceland have lost their savings and jobs, even houses and heaven knows when the situation will be "normal" again and the wealty men will be wealty again.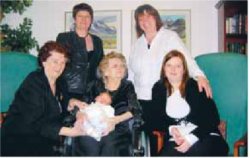 Kristinn Freyr Sæþórsson in the lap of Laufey,
his great great great grandmother.
(the picture lifted from the newspaper Fréttablaðið).
Well, wealt can be measured in many ways. In the middle of the crisis here (18th Oct) a boy was born who can be regarded as a very wealty one. Believe it or not, this little boy - Kristinn Freyr - has 8 (eight) grandmothers and 2 grandfathers alive. In the picture at right you see him together with his mother (1988), grandmother (1970), great grandmother (1954), great great grandmother (1934) and great great great grandmother (1914) - all on his mother's side. Wao!
And now a small piece of genealogy.
Sigurður Júlíus Jörgensson
was an uncle to Laufey Þorgeirsdóttir, the great great great grandmother above. Her father's brother. He was born 1872 in Reykjavík and emigrated to Canada. Just when is not known but he died 1951 in
Selkirk, Manitoba
. Anyone able to inform me about this man? Was he married? Any children?
More relatives. Sigurður Júlíus Jörgensson's cousin was
Magnús Magnússon
, born 1875, who emigrated 1900 from Saudarkrokur. The previous year his wife
Ögn Ingibjörg Guðmundsdóttir
(1863-??) emigrated to US with their son
Sigurður Tryggvi Magnússon
who later became a medical doctor in Portland, Oregon. After 2 years in N-Dakota the family moved to Point Roberts. Magnus and Ögn Ingibjörg had two other sons, Gudmundur Ingibjartur Freeman and Agnar Bragi. This family has it's chapter in the book
Icelanders on the Pacific Coast
(page 23). Any further information? Descendants?