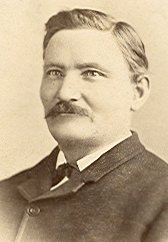 Finally a Genealogy Grand Slam!
I thought I had already written my last "Newsletter" long time ago, but I simply have to deal this with you. Ever since early 1995 when my interest for the history of Icelandic Emigration to North America became almost an obsession to me I have every now and then searched for decendants of the only relatives I know I have somewhere in North America. Two brothers of my Great grandmother emigrated with their family, Thorvaldur Stephensen already in 1873 to Chicago and Jonas Stephensen, almost 40 years later, in 1904 to Winnipeg. Ever since 1995 my search was not successful. Probably because I was most of the time busy searching quite unrelated people. It must be hundreds and hundreds more of them I searched for, I'm sure.
Grand Slam - I call it so as I received messages from great grandsons of both my great grandmother's brothers Thorvaldur and Jonas Stephensen last week! From both my fourth cousins in the same week! - almost 20 years since I first set sail in my quest. Persistence pays obviously. One lives in Chicago and the other in Columbus, Ohio. Now I wait for further information on family members. Exciting!
The family name Stephensen is an - well, I call it a distortion - from the surname Stefánsson.
It was rather common in those days that Icelandic officials, mainly those who had studied in Denmark, changed their surname to more Danish-like name (maybe they found it exotic!). Thus Stefánsson became Stephensen, Þorvaldsson became Thorvaldsen, Sigurðsson became Sivertsen and so on. These Danis-like familynames have descended along with the generation to the day today.
The head of the Stephensen kin was Ólafur Stefánsson (1731-1812). He was, as it was called,
Stiftamtmaður
meaning that he was the Danish King´s representative in Iceland, primarily though in spiritual matters. He was a very well educated man, poet and a writer. Amongst other things he wrote a book of Mathematic (published in 1785) for the common people, which included a chapter of Decimal fractions, which was at that time nearly unknown in books for the public in Europe.
If you search for Ólafur Stefánsson in the
"Icelandic Roots"
database you will find there nearly 6000 descendants of my Great-great-great-great-grandfather :-) And there are more for sure.
Dear friends
, I like to maintain my
Mailing list
although I'm a lazy writer :-) This letter is Numero 75. Think if I would reach to 100. That would be historic, both for me and you! Haha!! No promises.
Click this
Tell a friend
link and send some nice words to your "Icelandic" friends and relatives