Hello good people!
Those of you who actually read my Newsletters may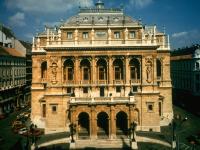 have noticed that the last one was sent to you 12th of April (three weeks ago?) meaning that I haven't kept the pace for a weekly Newsletter. Well, I had to take a break, first to have some lazy days during the Easter with the family - children and grandchildren - and after that we (my wife and I) went to visit the beautiful city of Budapest, the capital of Hungary, for some short days. And it was worth it! The weather was very nice, sunny and warm, 20 -25°C, the restaurants and the food is very good, mmmm! and the top of it all was an evening in the grand old Opera house with Verdi's Aida. The Opera house ranks among the most
beautiful
in Europe with a fantastic interior, possibly the richest in the city as we were told.
Well, this it not ment to be a tourist brochure

but if you have the chance to visit central Europe, don't overlook Budapest or Prague, which is still my favourit!