Some years ago
I launced, what I call, the
Forefather Finding Facilty
. It was simply my respond - well, late respond - to the great number of ancestral queries I had received almost ever since I entered this world of Internet and the World Wide Web. What a great invention. Yes, queries in hundreds through the years since early 1995. Obviously there are many out there with interest in their Icelandic roots. Unfortunately I have not been able to reply to many of the queries. Too many. Not because of being unable to solve the problems, but simply because of lack of time. I still have my full time job to take care of.
Well, at least in the near future I will through the Newsletter try to get more of that genealogy job done. By doing that, maybe some of my readers might recognize the people we are seaching for and even get in touch with the inquirer. Further I intend to put up a link where you can access, download and study the "subject's" ancestral file.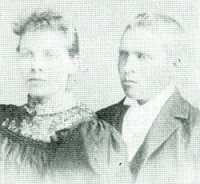 Sigríđur and Hjálmur
Earlier this year
I received the following:
"Hi I'm a young man in Winnipeg Manitoba Canada, trying to find information about my ancestors. My Great Afi, Hjalmur Thorsteinsson was born 6.4.1870 at Flokadal Hospital in Borgarfjartharsyslu (as best as I can figure). He married Sigrithi Hjalmsdottir on 27.2.1896. She was born on 3.8.1873. He emigrated to Canada in 1894.
Any information would be greatly appreciated.
S. Johnson"
Well, at the time
Hjálmur Ţorsteinsson
was born (1870), there were no hospitals in the county of Borgarfjarđarsýsla. As a matter of fact, there were very few, if any, hospitals in Iceland at that time except for the one in Reykjavík, which was built in 1866. Hjálmur was born at the farm Hćll in the valley of Flókadalur and lived there until he emigrated in 1894. His parents were Ţorsteinn Guđmundsson and Ljótunn Pétursdóttir, farmers at Hćll. In 1896 Hjálmur married
Sigríđur Hjálmsdóttir
. She was born 3 Aug 1873, daughter to Hjálmur Pétursson and Helga Árnadóttir, farmers at Ţverártunga and later at Hamar in Borgarfjörđur county. Sigríđur emigrated in 1893. Her brother was Pétur Hjálmsson who became a minister and a farmer in Markerville, Alberta.
Hjálmur and Sigríđur had many children: Ljótunn, a teacher in Vancouver, Sigrún, in Winnipeg, Hrefna, married Bjarni Guđmundsson in Winnipeg, Ţorbjörn, a carpenter in Winnipeg, married Bára Magnúsdóttir, Hjálmar and Pétur at Gimli and Óđinn in Vancouver.
Before marriege and before Hjálmur emigrated, he had a son together with Marsibil Björnsdóttir. The son was Haraldur Hjálmsson, b. 27 Jan 1894. In 1900 Haraldur emigrated to Canada probably together with his aunt Guđrún Ţorsteinsdóttir and her husband Guđmundur Torfason, farmers in Borgarfjörđur county.
Ancestral files: